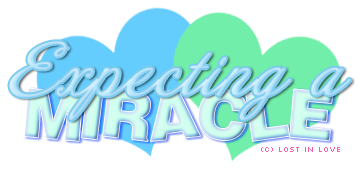 As most of you know, we are expecting our first miracle baby Lord-willing in April! It still gives me chills and makes my heart smile to even type about it. God is simply amazing!!! One of my good friends shared this phrase with me and it really blessed my heart: "Every test has a Test-imony". It's so true, it's written all over God's Word...God provided for so many people in the Bible..over and over again. I myself really connected with Hannah whom the Lord remembered in HIS time!
Ok so several of you really wanted to know how I shared the news with my hubby. Those who know me, know that I'm always trying to make everything meaning..even the smallest detail. Since we tried for a while I had plenty of time to envision the moment when I would break the news to my husband. About 2 yrs ago I went on a myriad of websites that had pretty neat ideas such as...bake him a cake with a + sign on it, put baby food in his lunch bag, buy a bib and put in on the table for dinner, sing/play a song, write him a card and so forth. Even though these were neat....I wanted to be me..to be unique because I knew it had to be very special. I went into prayer for a little while and not too long after the Lord told me exactly what He wanted me to do. I know that many people are skeptical about the way the Lord speaks but let me tell you....if you're willing to listen, the Holy Spirit will guide you...that small still voice is very powerful! I have many testimonies about this.
The Lord told me that when the time would come, take my husband's Bible, turn to Psalm 127:3 and write: "Papi, I will see you On (due date)! I LOVE YOU! I completely loved the idea, something only God could give me especially because I wanted my hubby to remember this day forever and it would now be recorded in his Bible.
Once I got home the day I found out we were expecting, I put my plan to work. I wrote in his Bible exactly what the Lord told me and sat it on the coffee table.
I kept looking at the clock and 5:30pm wasn't coming fast enough lol. When he got home, he wanted to drop something off at the neighbors. I knew I had to act quickly so I asked him if he could please read to me Psalm 127:3 out of his Bible. Being a little lost, he asked why? I said, "I wanted to hear it in your Bible" we have different translations. He seemed a little puzzled but went with the flow. He read the verse once and looked up. The camera rolling kinda lost him a little lol. I then asked him to continue reading....he read verse 4 lol. I couldn't believe that he wasn't seeing the dark black print lol. I, nervously told him to read "126" instead of 127 lol but he knew what I meant so he reads it again only this time...he noticed my message! At first he seriously thought I was messing with him since we joke alot with each other. He ought to know better...I would never joke about being pregnant lol. It took him a lil bit but then he came over, hugged me and we both were..only this time..tears of pure JOY!!!! Let me tell you, one of the best feelings ever!!! He told me he loved the way I surprised and thought the idea was so neat!
Our faith had grown because of this. One of the first things my husband told me was that now we needed to write a praise on the prayer request slip at church..a praise that God had answered our fervent prayer! We knew they'd rejoice after praying for so long! We thank God for taking us on the 3 yr journey because it makes all so much sweeter, much more special but most important, we learned very valuable lessons along the way. We now have a very special relationship with the Lord. It took us on a whole new level with Him...a very intimate one! I would like to minister to women who are in the shoes I wore for 3 long yrs. God already sent me a very special woman who opened up to me and who's heart yearns to be a mom. I also have one cousin and two very good friends whom I'm praying can also conceive.
Believe in the power of God's Word...it's alive! Believe in miracles they happen to ordinary people like you and I
This is a snap shot of the happy couple...full of gratitude, filled with amazement, bursting with joy!!!